Steve C. LaRance
I am a native Montanan who grew up in a small town along the Rocky Mountain Front. My father was a Metis cowboy who was a competition roper, ranch hand, and barber. My mother was an English woman who enjoyed music and the arts. I am an enrolled member of the Little Shell Tribe of the Chippewa Indians of Montana.
Growing up in a small town I was surrounded by everything country life offered–wide open spaces, farms and ranches, rodeos, beer, and two-lane roads. As a teenager I discovered and was heavily influenced by hot rods, motorcycles and rock n' roll. I went from playing an accordion to an electric guitar (much to my mother's dismay). During high school I formed a rock band and worked at a service station to save for college.
My art has defined me throughout my life (my second grade teacher wrote on a report card that I spent too much time drawing). I studied Design at Montana State University and supported myself by playing in bands. I dropped out of school to pursue music. After spending time in Seattle as guitarist with a rock band, I returned to Montana, where my heart remained, and went back to school. I again pumped gas, repaired cars, and played in bands while earning a Fine Arts degree from The University of Montana. Immediately after graduating in 1973, I was hired as a graphic designer. I opened and operated my own graphic design business in 1975, which I sold in 1991. I continued to manage that business until being hired as the Director of Corporate Image for a group of industrial companies in 1996.
In 1985 I began to paint as an outgrowth of being an illustrator, working in acrylics at that time. The demands of a commercial design career, plus my other interests of motorcycle drag racing and building custom cars, kept painting as a part-time endeavor.  I started to work in oils in 1992 and continue to paint in that medium. Having retired from my design career in 2015, I now enjoy additional opportunity to experience and share my vision of the West in my paintings.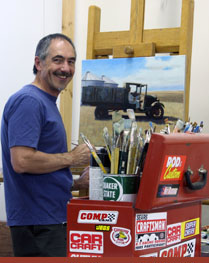 EXHIBITIONS
2014 Icons of the West, Juried Show, Dana Gallery, Missoula, MT
2014 Clymer Museum Auction, Ellensberg, WA
2013 Icons of the West, Juried Show, Dana Gallery, Missoula, MT
2013 Clymer Museum Auction, Ellensberg, WA
2012 Icons of the West, Juried Show, Dana Gallery, Missoula, MT
2012 Clymer Museum Auction, Ellensberg, WA
2012 "Across America" Joint Show, Clymer Museum of Art, Ellensburg, WA
2011 Icons of the West, Juried Show, Dana Gallery, Missoula, MT
2011 Steve C. LaRance: Contemporary Western, Dana Gallery, Missoula, MT
2010 Steve C. LaRance: Motor Oils, Allegra Printing, Missoula, MT
1993 "Absolut Montana" competition winner, Carillon Importers Absolut Vodka national promotion
1990 Joint show with Larry Pirnie, Clark Fork Gallery, Missoula, MT
1990 Post-Westerns, Yellowstone Art Center, Billings, MT
1990 Joint show with Ace Powell retrospective, Hockaday Center for the Arts, Kalispell, MT
1989 Electrum XVIII National Juried Exhibition, Holter Museum of Art, Helena, MT
1989 Steve LaRance, Arts in Company Gallery, Kalispell, MT
1989 22nd Annual Art Auction, Yellowstone Art Center, Billings, MT
1988 Open Competition Artwest Gallery, Jackson, WY
1988 Montana Art Exchange Invitational Exhibit, Oaxaca, Mexico
1988 "Art as Political Vision" Juried Exhibition, Brunswick Gallery, Missoula, MT
1988 Juried Alumni Exhibit, University of Montana
1988 21st Annual Art Auction, Yellowstone Art Center, Billings, MT
1988 Eastern Washington Watercolor Society Juried Exhibition, Carnegie Art Center, Walla Walla, WA
1987 Open Competition, Artwest Gallery, Jackson, WY
1987 "Western Places" Juried Exhibition, Missoula Museum of the Arts
1986 Steve LaRance Solo Show, Magic Gallery, Missoula, MT
GALLERIES
Dana Gallery
246 N Higgins Ave.
Missoula, MT 59802
Rieckes Bayside Gallery
482 Electric Ave.
Bigfork, MT 59911